Education in the UK: How to Choose Educational Institution and Obtain Required Visa?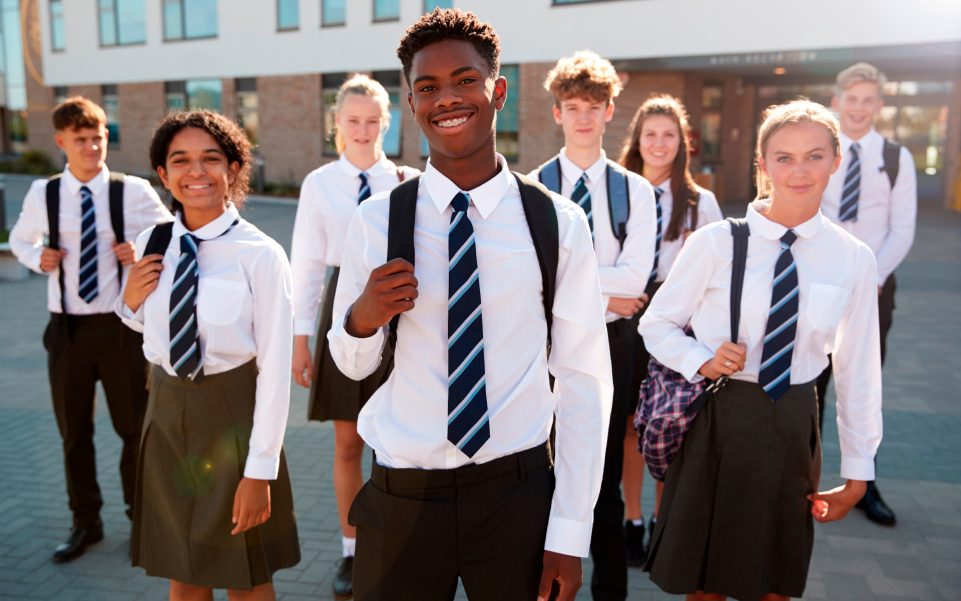 UK pre-school, primary, and secondary education seamlessly combines centuries-old traditions with innovative approach to ensure high-quality standards. British pupils demonstrate brilliant academic performance and get enrolled into the top universities in the United Kingdom and other countries. Graduates from UK universities build successful careers in business, science, politics, and the public sector.
One of the main advantages of British education is the development of in-demand personal qualities, such as being proactive, creative, critical thinker, and able to work with large amounts of information. Self-driven project-based education that allows pupils' and students' creativity to thrive is an integral part of the British curriculum. British schools and universities also pay a lot of attention to physical education to develop leadership qualities and teamwork skills.
This article explains the particularities of UK preschool, primary, secondary, and higher education.
UK Education System
British education is comprised of four stages:
Preschool education

Primary education

Secondary education

Further education or sixth form.
An academic year in the UK starts in September and is divided into three semesters. Each of them lasts for 38 weeks. There are Christmas and summer holidays (summer holidays last for 8–10 weeks) and short term breaks between trimesters.
UK Preschool and Primary Education
There are two types of schools in the UK: state and public. All schools, irrespective of their type, must teach at least a minimum curriculum determined by the government. State schools are free and available only for UK citizens and residents. Public schools accept both British and foreign nationals. However, they charge fees.
Your chances of getting enrolled into a prestigious university depend a lot on the quality of your school education. Parents should carefully plan their children's education trajectory already at the preschool stage.
Preschool education is not compulsory. Pre-primary institutions accept children from three months to five years. Parents see preschool education as a perfect way to socialise their children and develop their creativity and intellectual potential. At the age of two, children go to nurseries or nursery schools. At the age of four, they can already start preparing for their primary school education. This period is called the reception year. Children get used to the school environment and schedule. Thanks to this, children experience no stress when they start attending primary school.
Parents can rely on 15 free childcare hours per week provided by the government or pay for additional childcare. They can choose any nursery and school that they like and that from their point of view will provide comprehensive development and education for their children. School education can also be both free and fee-based.
British law says that children must start their school education at the age of five. Primary and secondary education is compulsory and managed by the government. Children study at a primary school till the age of 11.
What Educational Institutions Does the Royal Family Attend?
Prince George of Wales and Princess Charlotte of Wales attend Thomas's London Day School in Battersea, South London. Prince George started his education at the age of four, his sister – at the age of two and a half. Education costs about £7,000 per semester. Prince Louis of Wales goes to the Willcocks Nursery School near his family's residence in Kensington Palace.
UK Secondary Education
At the age of 11, pupils go to a secondary school, also referred to as senior school. They complete their education at the age of 16 and take the General Certificate of Secondary Education examination (GCSE).
Apart from day schools, the UK is known for its boarding schools where children from wealthy British and foreign families study.
When pupils complete their secondary education, they can do one of the following:
Go to a tertiary college, obtain General National Vocational Qualification (GNVQ), and get employed.

Prepare for A Levels and go to a university.
If pupils do not aim for higher education, they can attend a tertiary college. This stage is called further education (FE) and allows students to take vocational training in construction, IT, hospitality, art, etc. Graduates will be able to start working without any university degree which is expensive.
The British education system consists of several consecutive stages that you cannot skip. For example, before applying to a British university, graduates must take a two-year preparation course, called sixth form.
The sixth form is a GCE Advanced Level course that ends with A Level exams. Such courses are offered by secondary schools or independent educational institutions, the so-called sixth form colleges.
For example, if you want to apply to the University of Oxford or the University of Cambridge, you must take an A Levels course. A Levels are recognised in the UK, Ireland, the USA, Canada, Australia, New Zealand, and by other European and Asian educational institutions.
You need to choose subjects for your A Levels program based on your future specialisation. For example, if you want to become an engineer, you need to study Physics, Mathematics, and Higher Mathematics. For a biologist or biochemist, you need Biology, Chemistry, Physics, and Mathematics.
School graduates can also study express preparatory programs, such as a University Foundation Year (UFY) or International Year One (IYO). The UFY program focuses on academic training for university studies with English being non-compulsory.
The IYO is a one-year course that prepares students for the second year of their bachelor's studies. It is designed for foreign students who have A Levels, IB, Foundation, or have finished their first year of university studies in their home country and decided to change universities or specialisations.
UK Higher Education
UK higher education is based on the Bologna principles and has the following levels:
Bachelor's degree

Master's degree

Doctoral degree or PhD degree.
British higher education is one of the most expensive in the world. Tuition fees for foreign nationals are 1.5–2 times higher than for British nationals and residents.
Which Higher Educational Institution to Choose?
It is important to choose the right higher educational institution and university course. One way to go about it is to check the rankings of UK universities.
When school graduates and their parents start thinking about UK higher education, the Golden Triangle immediately comes to mind:
University of Oxford

University of Cambridge

Imperial College London

King's College London (KCL)

London School of Economics (LSE)

University College London (UCL).
To find the best university, you can also refer to two independent ratings of higher educational institutions in England, Scotland, Wales, and Northern Ireland:
Guardian University Guide Ranking

Good University Guide – ranking compiled by The Times and The Sunday Times.
Surprisingly, according to the Good University Guide 2022 ranking, the University of Oxford and the University of Cambridge do not rank first. The list starts with the University of St Andrews in Scotland where Prince William and Kate Middleton studied.
In the top ten, there are a few other universities outside the Golden Triangle. For example, Durham University, University of Warwick, University of Bath, and Loughborough University.
If you want to study in the UK, you can also look at the international rankings. Here are the most popular ones:
Academic Ranking of World Universities (ARWU), also known as Shanghai ranking

QS World University Rankings

Times Higher Education – world university ranking that got separated from QS.
How to Obtain UK Student Visa?
You can apply for a UK visa on the official government website. The application is completed in English. If you need to leave the form for some time to open another page and look for information, you can do it without losing your progress. For this, you just need to click 'Save & Quit'. As a rule, you need to upload scanned copies of accompanying documents together with your application.
What Documents Are Required for UK Student Visa?
To obtain a student visa, you need to prepare the following documents:
A confirmation of acceptance for studies (CAS).

A bank statement proving that you have enough money to support yourself in the UK for nine months.

A written confirmation that your sponsor will pay for your education and life in the UK (if you have a sponsor).

A guardian's or parent's proof of employment with their position, date of employment, and monthly salary.

Proof that you have paid the application fee (£255–678, depending on the visa category).

Proof that you have paid the immigration health surcharge for the whole period of stay in the UK – starting from £470 for one year of stay.

English language certificate (for the higher education level only).

Negative tuberculosis test results (subject to the requirements).
You also must have a passport valid for at least six months and a blank page for the visa.
UK Student Visas
UK Child Student Visa
UK Child Student visas are issued for pupils aged 4–17 who plan to attend a British school.
You can apply for a UK Child Student visa yourself. However, to save money and time, it is recommended to contact immigration advisors. Imperial & Legal's advisors will help you collect all the required documents and fill in the visa application correctly.
The first step to getting a UK Child Student visa is to obtain a confirmation of acceptance for studies (CAS). It confirms that a certain UK educational institution agrees to accept that foreign pupil for studies. To be able to teach foreign nationals, a UK educational institution must have a student sponsorship licence.
A CAS must include the following information:
Pupil's or student's name and surname as written in their ID

Name of the educational institution

Licence number

Course title and duration: course start and completion dates.
The Home Office uses a point-based system to determine which applicants are eligible for a visa. As of 1 January 2021, an applicant for a UK Child Student visa must score 70 points:
50 points – a CAS issued by a UK independent school with a student sponsorship licence.

20 points – a bank statement showing that the pupil's tuition fees and living costs will be covered.
UK Parent of a Child Student Visa
Pupils younger than 12 years old cannot stay in the UK alone. One of their parents or guardians must accompany them on a UK Parent of a Child Student visa.
A UK Parent of a Child Student visa allows a guardian or a parent to stay in the UK while their child attends a UK school. This applies only to children who have not turned 12 yet.
A UK Parent of a Child Student visa is a special visa category that does not grant the right to work in the UK.
On a UK Parent of a Child Student visa, only one guardian or parent can come to the UK. If your child attends a boarding school, this immigration route will not be available for you. To visit your child, you will have to apply for a UK Standard Visitor visa.
A UK Parent of a Child Student visa is valid for the same period as the issued UK Child Student visa. It terminates when a child turns 12.
Requirements for a UK Parent of a Child Student visa:
Your child must apply to a UK independent school that is on the register of education and training providers with a student sponsorship licence.

You must have enough money to support yourself and your child as well as to pay tuition fees (without applying for social benefits).

You are ready to leave the UK immediately after your child completes their studies.
UK Student Visa
A UK Student visa is designed for foreign students who plan to take up a long-term university course in the UK (longer than 11 months). An applicant must be older than 16, have a CAS from a UK university that is on the register, and be enrolled on a day course with at least 15 hours of classes per week.
To get a UK Student visa, you must score 70 points:
50 points – for a CAS from a British college or university with a sponsorship licence.

10 points – for proof that you have enough finances to support yourself in the UK for at least nine months (one academic year).

10 points – for good knowledge of English.
You can apply for a UK Student visa both from inside and outside the UK. It is recommended to submit your application at least three months before your studies begin. If you apply outside the UK, your application will be processed within three weeks, inside the UK – within eight weeks.
How to Apply for UK Student Visa?
If you apply for a UK Student visa from inside the UK, you will have to visit a visa centre where your biometrics and photo will be taken. If your application is approved, you will get a short-term visa for entering the UK. It will be valid for 90 days. Within these 90 days, you will need to relocate to the UK and get a biometric residence permit (BRP). A BRP card is proof that you have a UK visa. From 31 December 2024, no biometric cards will be issued. Instead, all the immigration data will be available online.
UK Student visas provide several benefits, including extension options and permission to work part-time during the academic year and full-time during summer holidays.
Visa holders who are older than 18 and take a preparatory course for a bachelor's degree can stay in the UK for no longer than two years.
UK Short-term Study Visa
If you plan to come to the UK for a short-term course, for example, a language course, you need to apply for a UK Short-term Study visa. The holders of such visas cannot switch to long-term visas and prolong their stay in the UK unless they re-apply outside the country.
Visa validity period – up to 11 months.
UK Graduate Visa
A UK Graduate visa is a relatively new immigration category that was introduced in 2021. It was designed for students who want to find work in the UK after graduation. Only students with a university degree can apply for a UK Graduate visa.
On a UK Graduate visa, you can stay in the UK for two years after graduation (for up to three years for PhD and doctoral students). This time is usually enough to find an appropriate job, start out as a freelancer, or set up a company. The main applicant can add their dependants to their visa application. To continue living in the UK after your UK Graduate visa expires, you need to switch to another immigration category, for example, a UK Skilled Worker visa.
Like a UK Student visa, your stay on a UK Graduate visa can be counted towards the mandatory 10-year period of stay in the UK that is required to get an Indefinite Leave to Remain (ILR).
UK Standard Visitor Visa
In conclusion, it may be useful to say a few words about a UK Standard Visitor visa. It is a short-term visa that is issued to pupils over 16 years old whose education course lasts for less than six months. Visa holders must leave the UK before their visa expires. It cannot be used to switch to another visa.
FAQ About Education in the UK
Can I transfer from my university to a suitable UK college or university?
Yes, you can. However, your course must be equivalent to a British course. As a rule, such transfer is done through international student exchange programs.
If you speak good English and have completed the first year of university study in your home country, it can be treated as a preparatory year for the first year of study at a British university for the same specialisation.
To learn more about it and discuss your case, contact Imperial & Legal's specialists.
What documents do I need to submit to apply to a UK college or university?
The standard package includes the following documents, excluding the application itself and the applicant's ID:
A certificate confirming your level of English (TOEFL, CAE, etc.).

A personal statement where you should briefly introduce yourself, talk about your goals, and, most importantly, why you want to do the subject and why you should be accepted.

Recommendation letters from teachers of the subjects you are going to major in. To help the admissions committee, it is recommended to provide English translations of all your documents.

A portfolio must include your educational background and your social activity (e.g. volunteering projects), your level of English, and demonstrate your academic performance and professional skills.

Results of an aptitude test. There are no entrance exams in most British colleges and universities (except for the oldest British universities some of which are included in the Golden Triangle). However, you will be invited for an interview or an aptitude test.
Why do most British people only have a bachelor's degree?
It may seem that three or four years are not enough to get ready for professional life. However, in the UK, a lot of people only obtain a bachelor's degree. In three years, they develop all the required skills for a successful career. Master's degrees in the UK are popular among adults who do it for professional growth.
What courses allow to apply for a UK Short-term Study visa?
A UK Short-term Study visa is issued for courses that last six to eleven months. If your course is shorter than six months, you can apply for a UK Standard Visitor visa. For more than 11 months of stay in the UK, a UK Student visa is required.
After your course ends, you can stay in the country for another 30 days. However, you will not be able to extend your visa even if you sign up for another course.